We Cover
Geopathic Stress Testing & Balancing
Geopathic stress effect on the health & the functional communications related to any part of the human body. Geopathic Stress is the only common factor in most serious and long term illnesses like Cancer and other psychological conditions like Cancer, Alzimers, liver disfunctioning, kidney failures, heart disease, high or low blood pressure, diabetese, acute level depression, insomenia, children not studying, lack of concentration, finencial problems, etc.
Testing with Latest Advance Testing Tools
100% Correct Findings Promised
Rectification with Advance Remedial Tools
Guaranteed Results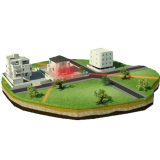 Geopathic Stress Testing & Balancing.
We are having expertise in Geopathic Stress Management of a premises & this helps a Jataka to get rid from Vastu Doshas completely. Hire Us to get relief in Short Period & Make your Life Easy To Live.
My video
Information Sharing via YouTube Channel
Choose From
Related Services
There are so many who can figure costs, and so few who can measure values.