We Cover
Pyramids Activation & Installation
Pyramids are the best remedial tool for the correction of any type of Vastu Dosha without making any Changes in structure or without any Demolation. Pyramids are capable to solve the Vastu Dosh about 70% to 95% & gives results with in days and may be in few weeks depends on the condition & impact of vastu dosha. Not required daily routien worshipping after one time activation.
We do not use Local Pyramids, We Use Branded Pyramids Only
100% Results in Short Term
Unique Activation Procedure applied for Best Results
Solution without Demolation Guaranteed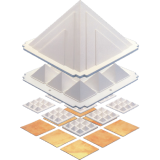 Pyramids Activation & Installation.
We are having expertise in balancing Vastu Zones via Pyramids in any premises & this helps a Jataka to get rid from Vastu Doshas completely. Hire Us & get relief in Short Period & Make Your Life Easy to Live.
My video
Information Sharing via YouTube Channel
Choose From
Related Services
There are so many who can figure costs, and so few who can measure values.