We Cover
32 - Zone Vastu Analysis of a Premises
Finding actual Doshas in a Premises is the most important part of Vastu Analysisation. 32 Zone & 360 Degree Vastu Analysis is the best way to analyse a premises as per Vastu. We don't believe in 8 Zones or 16 Zones analysation. It helps in rectifying Vastu Doshas at Pin Point & accurately. This procedure of Our's helps a Jataka in getting complete relief from Vastu Dosha Effects. This ability represents that how much deply we analyse a structure for vastu dosha findings & rectifications.
Includes 5 Elements Management
Includes Directional Strength Management
Special Focus on Hidden Earth Energies
Manual Analysation with Advance Tools Support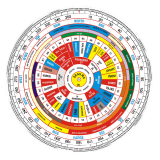 32 Zone Vastu Analysing.....
We are having expertise in 32 Zone Vastu Analysis of a premises & this helps a Jataka to get rid from Vastu Doshas completely. Hire Us & get relief in Short Period & Make Your Life Easy To Live.
My video
Information Sharing via YouTube Channel
Choose From
Related Services
There are so many who can figure costs, and so few who can measure values.