We Cover
Color & Metal Therapy
Vastu Dosha of a Premises can also be rectified via balancing Color & Metals. We can balance some percentage of all Vastu Zones by placing right Color & Metals in that zone. This helps in balancing energy of that zone. Though it is not a perfect remedy but works & give appropriate results.
Application of Color as Per Vastu Dosha
Application of Metal as Per Vastu Dosha
Usefull in Vastu Energy & Five Elements Balancing
Results Guaranteed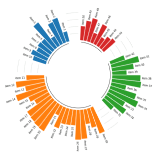 Color & Metal Therapy.
We are having expertise in balancing Vastu Zones via Color & Metals of a premises & this helps a Jataka to get rid from Vastu Doshas completely. Hire Us & get relief in Short Period & Make Your Life Easy to Live.
My video
Information Sharing via YouTube Channel
Choose From
Related Services
There are so many who can figure costs, and so few who can measure values.